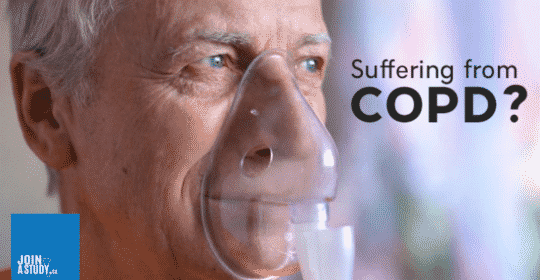 Bronchitis is an inflammation of the bronchial tubes, the airways that carry air to your lungs. It causes a cough that often brings up mucus, as well as shortness of breath, wheezing, and chest tightness. There are two main types of bronchitis: acute and chronic.  Chronic bronchitis is one type of COPD (chronic obstructive pulmonary disease). Chronic bronchitis is a long-term condition that never goes away completely.
 Do you suffer from COPD?
 This clinical research study is looking at the safety and effectiveness of an investigational study drug for people with COPD.
Would you like to take part?
As a volunteer in a research study, you'll receive personal, study related medical care from the study doctor and regular follow up of your COPD to monitor the effectiveness of the care you'll receive. The results of this research will be used to find out if the experimental drug being studied will be of benefit to others with COPD, and whether it will be made widely available to all Canadians with COPD. Study volunteers are an important part of moving medical care forward.
You may qualify to participate in this study if you:
Are male or female, between the ages of 40 and 80
Have a diagnosed, clinical history of COPD
Are receiving 1 or more inhaled bronchodilators as maintenance therapy for the management of your COPD
Have had at least 1 moderate or severe COPD exacerbation in the previous 12 months
Are a current or former smoker
You may not qualify to participate if you:
Have a current diagnosis of asthma
Have a current diagnosis of any other major respiratory disorder
Have a history or current presence of major cardiovascular disease
Have not been in complete cancer remission for at least 5 years
There are other eligibility requirements that the study doctor will review. Only the study doctor can finally determine whether you are eligible to participate in the study or not.
This study is listed on clinicaltrials.gov here: https://clinicaltrials.gov/ct2/show/NCT02727660?term=SOPHOS&rank=1
Click the JOIN button to register for this active study.
After registering, a clinic will contact you to further assess your eligibility, answer any questions you have about the study, and determine if you qualify for participation.