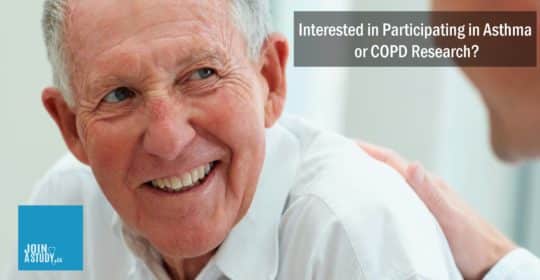 Do you suffer from COPD?
This clinical research study is looking at the safety and effectiveness of an medication for people with COPD.
Would you like to take part?
As a volunteer in a research study, you'll receive study-related medical care from the study doctor and regular follow up of your COPD to monitor the effectiveness of the care you'll receive. The results of this research will be used to find out if the investigational medication being studied will be of benefit to others with COPD, and whether it will be made widely available to all patients with COPD. Study volunteers are an important part of moving medical care forward.
You may qualify to participate in this study if you:
Are male or female between the ages of 40 and 95 years inclusive
Are a current or former smoker with a history of at least 10 pack-years of cigarette smoking (1 pack year = 20 cigarettes smoked per day for 1 year)
Have a current, clinical diagnosis of COPD, with COPD symptoms for more than one year prior to screening
You may not qualify to participate if you:
Have a current diagnosis of other respiratory diseases, such as asthma, lung cancer, pneumonia etc.
Have a history of certain cardiac disease
Have a current diagnosis of severe renal disease
Have a current diagnosis of glaucoma
Are a pregnant or lactating woman, or are planning to become pregnant during the course of the study
Have any planned hospitalization or significant surgical procedure planned during the study
There are other eligibility requirements that the study doctor will review. Only the study doctor can finally determine whether you are eligible to participate in the study or not.
This study is listed on clinicaltrials.gov here: https://clinicaltrials.gov/ct2/show/NCT03162055?term=AERISTO&rank=1
Click the JOIN button to register for this active study.
After registering, a clinic will contact you to further assess your eligibility, answer any questions you have about the study, and determine if you qualify for participation.