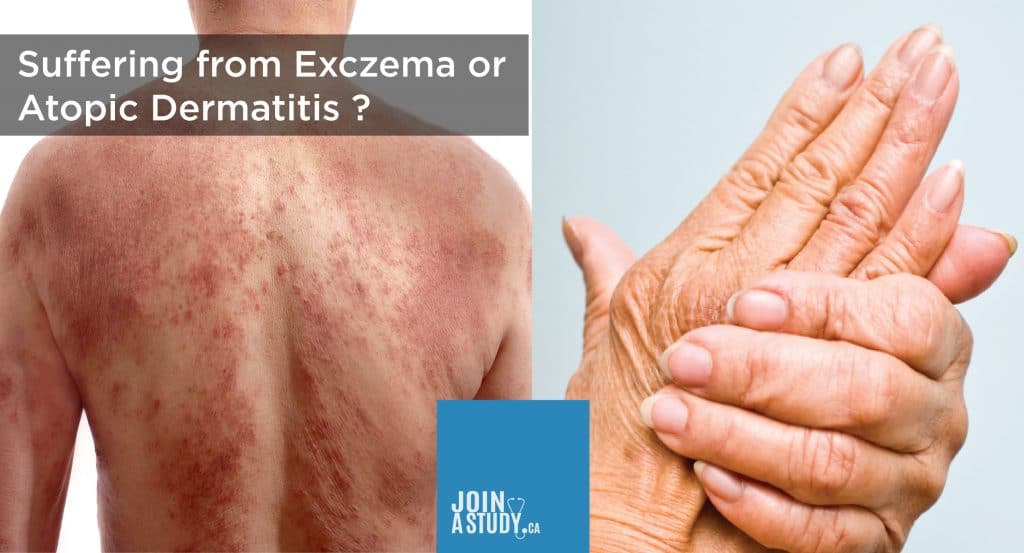 Atopic dermatitis (also known as eczema) is a type of skin inflammation known for causing itchy, swollen, dry and cracked skin. Untreated, these spots of skin may become infected, and many people with atopic dermatitis can develop hay fever or asthma over time.
Do you or a loved one experience Atopic Dermatitis?
 This clinical research study is looking at the safety and effectiveness of an investigational treatment option for people with atopic dermatitis (AD).
Would you like to take part? Would you like a friend or family member to take part?
As a volunteer in a research study, they will receive personal medical care from the study doctor and regular follow up on their AD to monitor the effectiveness of the care they will receive. The results of this research will be used to find out if the experimental treatment being studied will be of benefit to others with AD or not, and whether or not it will be made widely available to all Canadians with AD. Study volunteers are an important part of moving medical care forward.
You may qualify to participate in this study if you are:
Male or female, over the age of 18
Clinically diagnosed with atopic dermatitis
Willing to stop current treatments for AD, including the use of emollients on the affected skin, throughout the study
You may not qualify to participate if you:
Have other skin conditions that may interfere with AD diagnosis or evaluation
Patients who have used systemic treatments that could affect AD less than 4 weeks prior to baseline visit
Patients who have used any topical medicated treatment for AD two weeks prior to start of treatment/baseline
Have a history of clinically significant drug or alcohol abuse in the opinion of the investigator in the last year
Have participated in any other clinical study with an investigational drug within 3 months before the first day of administration of study treatment
Are pregnant, planning pregnancy or are unwilling to use adequate contraception
There are other eligibility requirements that the study doctor will review. Only the study doctor can finally determine whether you are eligible to participate in the study or not.
This study is listed on clinicaltrials.gov here: https://clinicaltrials.gov/ct2/show/NCT02925793?term=DS107E-06&rank=1
Click the JOIN button to register for this active study.
After registering, a clinic will contact you to further assess your eligibility, answer any questions you have about the study, and determine if you qualify for participation.