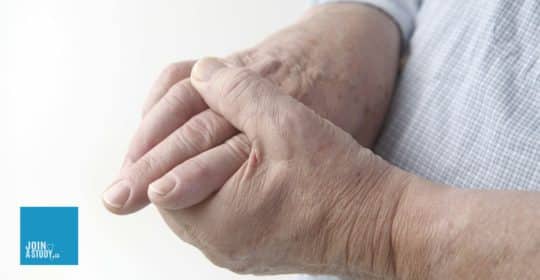 Rheumatoid Arthritis (RA) is an autoimmune disorder that causes swollen and painful joints, particularly in the hands, feet, wrists and elbows. Other symptoms of RA include inflammation of the lungs and heart, as well as low red blood cell count. The cause of this disorder is not known for certain, but can be a result of differing genetic and environmental factors. RA affects between 0.5 to 1% of adults in the developed world.
Do you have Early Rheumatoid Arthritis?
This clinical research study is looking at the changes in immune cells and proteins in response to treatment for early rheumatoid arthritis (RA) with two therapies currently approved only for moderate to severe RA.
 Would you like to take part?
As a volunteer in a research study, you'll receive study-related medical care from the study doctor and regular study-related follow up on your RA to monitor the effectiveness of the care you'll receive. The results of this research will be used to determine whether or not the medication being studied will be of benefit to others with early RA. Study volunteers are an important part of moving medical care forward.
You may qualify to participate in this study if you:
Are male or female, 18 years of age or older
Have exhibited symptoms of RA for no more than 12 months prior to enrollment
Have at least 3 tender & 3 swollen joints
You may not qualify to participate in this study if you:
Have a history of autoimmune diseases (eg. Psoriasis, systemic lupus, erythematosus, etc)
Have had prior use of biological and targeted synthetic disease-modifying anti-rheumatic drugs (DMARD) therapy
Have or have recently had an acute serious infection
There are other eligibility requirements that the study doctor will review. Only the study doctor can finally determine whether you are eligible to participate in the study or not.
This trial is listed on clinicaltrials.gov here: https://clinicaltrials.gov/ct2/show/NCT02557100?term=BMS+101-567&rank=1
Click the JOIN button to register for this active study.
After registering, a clinic will contact you to further assess your eligibility, answer any questions you have about the study, and determine if you qualify for participation.