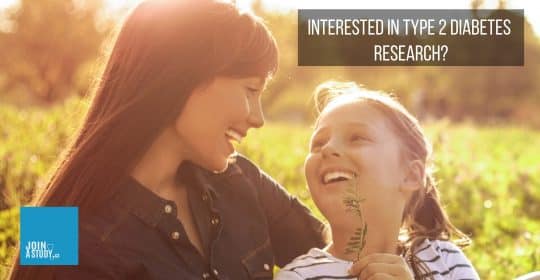 Diabetes is a condition in which your blood glucose, or blood sugar, levels are too high. With type 2 diabetes, the more common type, your body does not make or use insulin well. Insulin is a hormone that helps glucose get into your cells to give them energy. Without insulin, too much glucose stays in your blood. Over time, high blood glucose can lead to serious problems with your heart, eyes, kidneys, nerves, and gums and teeth.
 Do you have type 2 diabetes?
This clinical research study is looking for volunteers to participate in a research opportunity that is looking at an experimental medication that may help reduce blood sugar levels as well as weight.
Would you like to take part?
As a volunteer in a research study, you'll receive study-related medical care from the study doctor and regular follow up of your diabetes to monitor the safety and effectiveness of the care you'll receive. The results of this research will be used to find out if the experimental medication being studied will be of benefit to others with type 2 diabetes or not, and whether it will be made widely available to all Canadians with type 2 diabetes. Study volunteers are an important part of moving medical care forward.
You may qualify to participate in this study if you:
Are 18 years of age or older
Are only taking metformin for your Type 2 Diabetes
Are not taking any other diabetes medications
Have uncontrolled blood sugar levels
Are interested in possible weight loss
You may not qualify to participate in this study if you:
Are a pregnant or breastfeeding female, or plan to become pregnant during the course of the study
Have acute or chronic pancreatitis
There are other eligibility requirements that the study doctor will review. Only the study doctor can determine whether you are eligible to participate in the study or not.
Click the JOIN button to register for this active study.
After registering, a clinic will contact you to further assess your eligibility, answer any questions you have about the study, and determine if you qualify for participation.