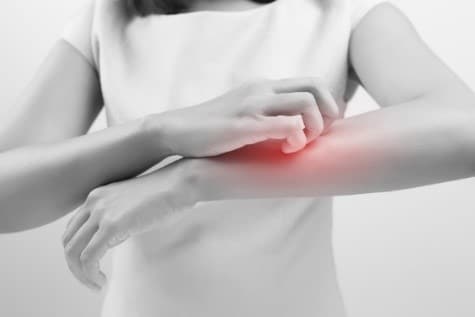 Atopic dermatitis (also known as eczema) is a type of skin inflammation known for causing itchy, swollen, dry and cracked skin. Untreated, these spots of skin may become infected, and many people with atopic dermatitis can develop hay fever or asthma over time.
Do you or a loved one experience Atopic Dermatitis?
This clinical research study is looking at the safety and effectiveness of an investigational treatment option for people with moderate atopic dermatitis (AD).
Would you like to take part? Would you like a friend or family member to take part?
As a volunteer in a research study, they will receive personal medical care from the study doctor and regular follow up on their AD to monitor the effectiveness of the care they will receive. The results of this research will be used to find out if the experimental treatment being studied will be of benefit to others with AD or not, and whether or not it will be made widely available to all Canadians with AD. Study volunteers are an important part of moving medical care forward.
You may qualify to participate in this study if you:
Are male or female, 18 years of age or older, OR are between the ages of 2 and 18 years of age and have a parent or guardian that can consent to their participation

Have been clinically diagnosed with AD and are treatment naïve, a non-responder to emollients, or have been previously treated with TCIs or TCSs
You may not qualify to participate if you:
Have any clinically significant medical disorder that, in the opinion of the investigator, may

interfere

with the study objectives OR with the health of the participant

Have unstable AD or any consistent requirement for high-potency TCS to manage AD signs and

symptoms

Have an active systemic or localized infection, including known actively infected AD

Have a history of suicidal ideation

Have had cancer or a procedure to treat cancer within the past 5 years

Have a planned surgical or medical procedure planned during the course of the study

If you are a pregnant or breastfeeding female
There are other eligibility requirements that the study doctor will review. Only the study doctor can finally determine whether you are eligible to participate in the study or not.
Click the
JOIN

button if you think you might be eligible for this study.
All information about you will be kept confidential and will never be used or disclosed for any purpose not described in our Privacy Policy.
After providing us with your contact information, a research professional will get in touch to further assess your eligibility, answer any questions you have about the study, and determine if you qualify for participation.