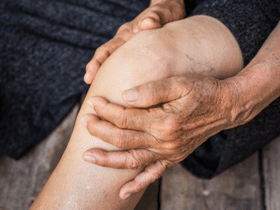 Interested in Participating in a Trial for Osteoarthritis?
This clinical research study is looking at the safety and effectiveness of an investigational medication option for people with pain due to osteoarthritis of the knee.
Would you like to take part?
As a volunteer in a research study, you'll receive medical care related to the study from the study doctor, and regular follow up to monitor the effectiveness of the care you'll receive. The results of this research will be used to find out if the experimental medication being studied will be of benefit to others or not. Study volunteers are an important part of moving medical care forward.
You may qualify to participate in this study if you:
Are 18 years of age or older at the time of the screening visit
Have a diagnosis of osteoarthritis of the knee based on American College of Rheumatology criteria and functional capacity class of I to III
Have a documented history indicating insufficient pain relief with previous Standard of Care
You may not qualify to participate if you:
Have had past joint replacement surgery of the index knee
Have a history of significant trauma or surgery (e.g., open or arthroscopic) to the index knee within 12 months of Screening
Have periarticular pain from any cause other than osteoarthritis, including referred pain, bursitis, or tendonitis
Have clinical hip osteoarthritis on the side of the index knee
Have pre-existing osteonecrosis, subchondral insufficiency fracture, atrophic osteoarthritis, severe bone on bone osteoarthritis, knee pain attributable to disease other than osteoarthritis, or have rapidly progressing osteoarthritis (RPOA) Type I or Type II
Have current clinically significant disease(s) or condition(s) that may affect efficacy or safety assessments, or any other reason which, in the investigator's opinion, may preclude your participation for the full duration of the trial
Have a history of hypersensitivity to resiniferatoxin (RTX) or any similar component (capsaicin, chili peppers)
There are other eligibility requirements that the study doctor will review. Only the study doctor can finally determine whether you are eligible to participate in the study or not.
Click the
JOIN

button if you think you might be eligible for this study.
All information about you will be kept confidential and will never be used or disclosed for any purpose not described in our Privacy Policy.
After providing us with your contact information, a research professional will get in touch to further assess your eligibility, answer any questions you have about the study, and determine if you qualify for participation.