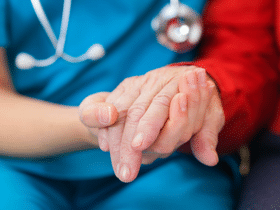 Interested in Participating in a Trial for Psoriatic Arthritis?
This clinical research study is looking at the safety and effectiveness of an investigational medication option for people with psoriatic arthritis. Psoriatic arthritis can cause pain and swelling in the joints, sausage-shaped swelling of the fingers and toes, inflammation of the muscle- or tendon insertions at adjacent bones, as well as raised red patches or various other expressions of psoriasis on the skin.
Would you like to take part?
As a volunteer in a research study, you'll receive medical care related to the study from the study doctor, and regular follow up to monitor the effectiveness of the care you'll receive. The results of this research will be used to find out if the experimental medication being studied will be of benefit to others or not. Study volunteers are an important part of moving medical care forward.
You may qualify to participate in this study if you:
Main study:

Have a confirmed diagnosis of psoriatic arthritis as determined by a rheumatologist with reference to Classification criteria for Psoriatic Arthritis (CASPAR)
Start guselkumab or any approved interleukin-17 inhibitor (IL-17i) as a first, second, third, or fourth line of biologic disease-modifying antirheumatic drugs therapy for the indication of Psoriatic Arthritis part of standard clinical practice (according to local label, local regulations, and/or reimbursement requirements) at the time of enrollment into the observational study or within a maximum of 2 months after the initial baseline visit or after repeated baseline data collection
Sign a participation agreement/Informed consent form (ICF) allowing data collection and source data verification in accordance with local requirements
Are able to read, understand, and intend to comply with completion of all Electronic patient-reported outcome (ePRO) instruments

Sub-study:

Sign the sub-study ICF allowing data collection in accordance with local requirements
Are scheduled to receive guselkumab or IL-17i, per routine clinical practice, in the main study
Currently using or is willing to use wearables and/or commercial applications to track their disease within the course of their normal daily activities
You may not qualify to participate if you:
Main study:

Start guselkumab or an IL-17i therapy as fifth or further line of biologic treatment
Have already taken a specific IL-17i or IL-23i treatment and are planning on re-taking that specific treatment again
Are unwilling or unable to participate in long-term data collection
Have received an investigational drug (including investigational vaccines) or used an invasive investigational medical device within 30 days before the start of the study (that is, signing of informed consent)
Are currently enrolled in any interventional study or any Janssen-sponsored observational clinical study (contemporary participation into observational studies or registries not sponsored by Janssen is acceptable)

Sub-study:

Have an insufficient command of language to interact effectively with the smartphone application, in the opinion of the investigator at each site
Have any condition for which, in the opinion of the investigator, participation would not be in the best interest of the patient (example, compromise the well-being) or that could prevent, limit, or confound assessment
There are other eligibility requirements that the study doctor will review. Only the study doctor can finally determine whether you are eligible to participate in the study or not.
Click the
JOIN

button if you think you might be eligible for this study.
All information about you will be kept confidential and will never be used or disclosed for any purpose not described in our Privacy Policy.
After providing us with your contact information, a research professional will get in touch to further assess your eligibility, answer any questions you have about the study, and determine if you qualify for participation.