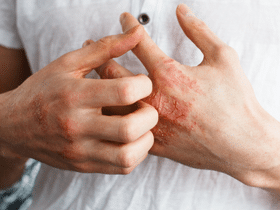 Interested in Participating in a Trial for Psoriatic Arthritis?
This clinical research study is looking at the safety and effectiveness of an investigational medication option for people with psoriatic arthritis. Psoriatic arthritis can cause pain and swelling in the joints, sausage-shaped swelling of the fingers and toes, inflammation of the muscle- or tendon insertions at adjacent bones, as well as raised red patches or various other expressions of psoriasis on the skin.
Would you like to take part?
As a volunteer in a research study, you'll receive medical care related to the study from the study doctor, and regular follow up to monitor the effectiveness of the care you'll receive. The results of this research will be used to find out if the experimental medication being studied will be of benefit to others or not. Study volunteers are an important part of moving medical care forward.
You may qualify to participate in this study if you:
Are between the ages of 18 and 75, inclusive
Have a clinical diagnosis of psoriatic arthritis (PsA) with symptom onset at least 6 months prior to the first dose of study drug
Have active PsA defined as ≥3 tender joints (based on 68 joint counts) and ≥3 swollen joints (based on 66 joint counts)
Are rheumatoid factor (RF) and anti-cyclic citrullinated peptide (anti-CCP) negative
Have had an inadequate response to at least one of the following:

nonsteroidal anti-inflammatory drug (NSAID)
conventional-synthetic disease-modifying anti-rheumatic drugs (csDMARD) (i.e. methotrexate, sulfasalazine, leflunomide, hydroxychloroquine, cyclosporine A)
tumor necrosis factor-alpha inhibitor(s) (TNFi) (e.g. adalimumab, infliximab, etanercept, golimumab, certolizumab).

Are using methotrexate, leflunomide, sulfasalazine, hydroxychloroquine, or apremilast, you must be treated for ≥3 months and a stable dose (not to exceed 25 mg methotrexate per week, 20 mg leflunomide per day, sulfasalazine 3 g per day, hydroxychloroquine 400 mg per day, or apremilast 60 mg per day) for ≥4 weeks prior to first dose of study drug.
Are using corticosteroids, must have been on a stable dose and regimen and not to exceed 7.5 mg per day of prednisone (or other corticosteroid equivalent to 7.5 mg per day of prednisone) for ≥4 weeks prior to first dose of study drug.
Are using NSAIDs, must have been on a stable dose and regimen for ≥2 weeks prior to first dose of study drug.
Have no known history of active tuberculosis (TB)
You may not qualify to participate if you:
Have any history or current confirmed diagnosis of inflammatory bowel disease (IBD) ORAny of the following symptoms (of unknown etiology) or any signs or symptoms within the last year that in the opinion of the Investigator may be suggestive of IBD, with fecal calprotectin ≥ 500 μg/g; OR if fecal calprotectin >150 to <500 μg/g without confirmed approval from a GI consult that an IBD diagnosis is clinically unlikely when the following clinical signs and symptoms are present:

prolonged or recurrent diarrhea
prolonged or recurrent abdominal pain
blood in stool

Have a history of fibromyalgia, or any arthritis with onset prior to age 17 years or current diagnosis of inflammatory joint disease other than psoriatic arthritis (PsA) (including, but not limited to rheumatoid arthritis, gout, connective tissue diseases). Prior history of axial spondyloarthritis or fibromyalgia is permitted if documentation of change in diagnosis to PsA or documentation that the diagnosis was made incorrectly. Prior history of reactive arthritis or axial spondyloarthritis is permitted if an additional diagnosis of PsA is made. Chronic osteoarthritis symptoms that in the Investigator's opinion may interfere with study assessments.
Have any uncontrolled, clinically significant system disease
Have had a malignancy within 5 years
Have any severe, uncontrolled, medically unstable mood disorder, such as severe depression.
Have a history of, or evidence of any clinically significant disorder (including psychiatric), condition, or disease that, in the opinion of the investigator, may pose a risk to subject safety or interfere with the study evaluation, procedures, or completion.
Have any active infection or history of certain infections
Have had a candida infection requiring systemic treatment within 3 months prior to first dose of study drug.
Have tuberculosis or fungal infection seen on available chest x-ray taken within 3 months prior to first dose of study drug or at screening (Exception: documented evidence of completed treatment and clinically resolved).
Have a known history of human immunodeficiency virus (HIV) or positive HIV test at screening.
There are other eligibility requirements that the study doctor will review. Only the study doctor can finally determine whether you are eligible to participate in the study or not.
Click the
JOIN

button if you think you might be eligible for this study.
All information about you will be kept confidential and will never be used or disclosed for any purpose not described in our Privacy Policy.
After providing us with your contact information, a research professional will get in touch to further assess your eligibility, answer any questions you have about the study, and determine if you qualify for participation.