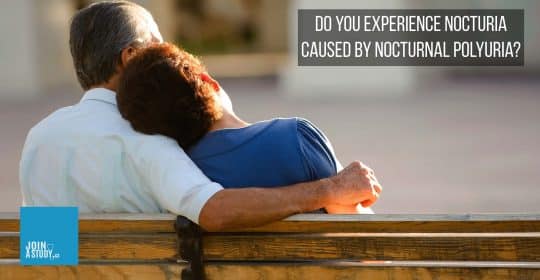 Do you experience nocturia?
This clinical research study is looking at the safety and effectiveness of an investigational medication option for men and women with nocturia caused by nocturnal polyuria.
Would you like to take part?
As a volunteer in a research study, you'll receive study-related medical care from the study doctor and regular follow up of your nocturia to monitor the safety and effectiveness of the investigational medication. The results of this research will be used to find out if the experimental medication being studied will be of benefit to others with nocturia or not. Study volunteers are an important part of moving medical care forward.
You may qualify to participate in this study if you:
Are male or female, greater than or equal to 18 years of age at the time of screening
Have a medical history of, or reported symptoms of nocturia symptoms during the past 6 months
You may not qualify to participate in this study if you:
Are a pregnant or breastfeeding woman, or intend to become pregnant during the course of the study
Have a current diagnosis of Obstructive Sleep Apnea
Have Restless Leg Syndrome
Have a history of any neurological disease affecting bladder function or muscle strength
Have a history of uncontrolled hypertension
Have uncontrolled diabetes mellitus, as judged by the investigator
Have suspicion or evidence of congestive heart failure
Have a known history of alcohol or substance abuse
Work or have a lifestyle that may interfere with regular night-time sleep
There are other eligibility requirements that the study doctor will review. Only the study doctor can determine whether you are eligible to participate in the study or not.
Click the 
JOIN

 button if you think you might be eligible for this study.
All information about you will be kept confidential and will never be used or disclosed for any purpose not described in our Privacy Policy.
After providing us with your contact information, a research professional will get in touch to further assess your eligibility, answer any questions you have about the study, and determine if you qualify for participation.