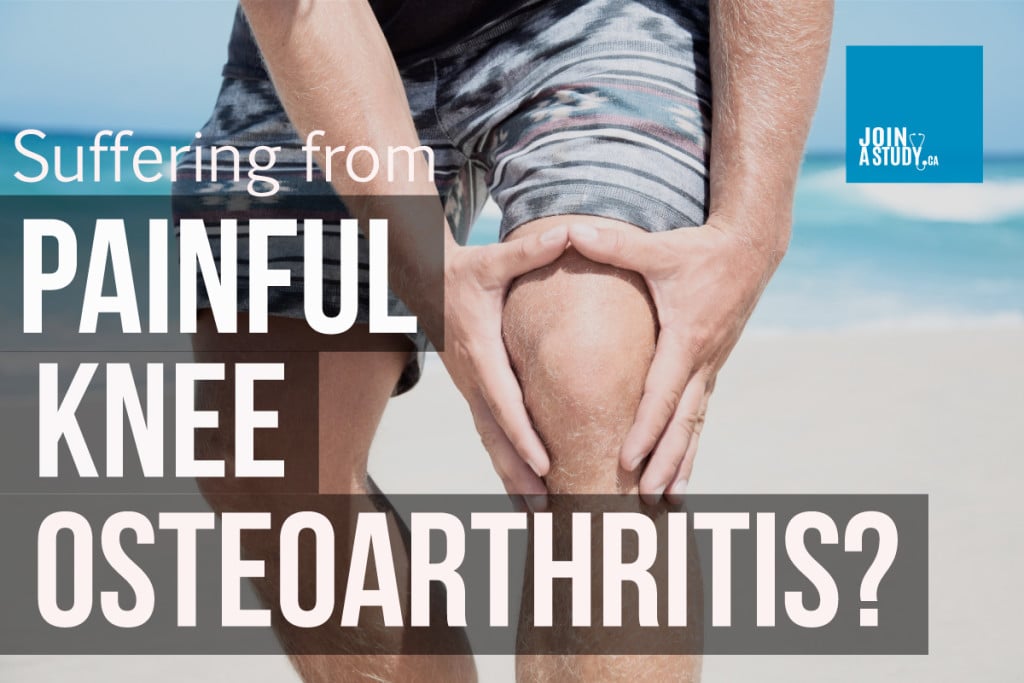 Interested in Participating in a Trial for Osteoarthritis of the Knee?
This clinical research study is looking at the safety and effectiveness of an investigational medication option for people with pain due to osteoarthritis of the knee. The purpose of this study is to measure the change in pain and function with subcutaneous injections of the investigational medication option, compared with subcutaneous injections of placebo in participants with knee osteoarthritis pain
Would you like to take part?
As a volunteer in a research study, you'll receive medical care related to the study from the study doctor, and regular follow up to monitor the effectiveness of the care you'll receive. The results of this research will be used to find out if the experimental medication being studied will be of benefit to others or not. Study volunteers are an important part of moving medical care forward.
You may qualify to participate in this study if you:
Are 18 years of age or older at the time of signing the informed consent.
Have a clinical diagnosis of OA in the index knee
Osteoarthritis pain in the index knee unresponsive (ie, you still experiences pain) to conservative therapy for ≥ 6 months preceding Screening, defined as history indicating that:

Acetaminophen/paracetamol therapy has not provided sufficient pain relief or participant is unable to take acetaminophen/paracetamol chronically/long term because of contraindication or inability to tolerate; AND
At least 1 oral non-steroidal anti-inflammatory drug (NSAID, including cyclooxygenase-2 inhibitors) and/or topical NSAID therapy that has not provided sufficient pain relief or participant is unable to take NSAIDs because of contraindication or inability to tolerate.

Have a body mass index between 18 to 35.0 kg/m2, inclusive. You can calculate your BMI here: https://www.nhlbi.nih.gov/health/educational/lose_wt/BMI/bmicalc.htm
Are capable of giving signed informed consent, which includes compliance with the requirements and restrictions listed in the informed consent form (ICF) and in this protocol.
Any current non-pharmacologic treatment regimen for knee OA (excluding knee brace) must be stable for at least 2 weeks before Day 1 and remain stable throughout the study. Participant must be willing to abstain from starting a new or changing their non-pharmacologic treatment regimen for the duration of the study.
Are willing to stop treatment with oral and topical NSAIDs, and all other systemic pain medications (except acetaminophen/paracetamol per rescue protocol) from 2 weeks before Day 1 to end of study.
Agree to use acetaminophen/paracetamol or topical analgesics (topical NSAIDs are prohibited) as rescue therapy if required
You may not qualify to participate if you:
Have a documented or reported history of increased bleeding in the absence of anticoagulant or antiplatelet drugs or prior history of major bleeding episode in the presence of anticoagulant or antiplatelet therapy.
Have a history of idiopathic or immune-mediated thrombocytopenia including history of or laboratory confirmed HIT (positive or equivocal antibodies against platelet factor 4 [ie, PF4]).
Have currently active or a recent history (within preceding 12 months) of a gastric or duodenal ulcer, or suspicion of gastrointestinal tract bleeding.
Suffer from fibromyalgia, regional pain caused by lumbar or cervical compression with radiculopathy, or other moderate to severe pain that may confound assessments or self-evaluation of the pain associated with osteoarthritis. Participants with a present (current) history of sciatica are not eligible for participation. Participants with a history of sciatica who have been asymptomatic for ≥ 3 months and who have no evidence of radiculopathy or sciatic neuropathy on thorough neurologic examination are eligible for participation.
Have a history of other disease that may involve the index joint, including inflammatory joint disease such as rheumatoid arthritis, seronegative spondyloarthropathy (eg, ankylosing spondylitis, psoriatic arthritis, inflammatory bowel disease-related arthropathy), crystalline disease (eg, gout), endocrinopathies, metabolic joint diseases, lupus erythematosus, joint infections, Paget's disease, or tumors.
Have a history of osteonecrosis or osteoporotic fracture (ie, a participant with a history of osteoporosis and a minimally traumatic or atraumatic fracture).
Have a history of hypersensitivity to PPS, heparin or heparin-like drugs, or drugs of a similar chemical or pharmacological class.
Have a predisposition to hypersensitivity due to multiple (2 or more) atopic diseases (such as atopic eczema, asthma, and chronic allergic rhinitis and/or rhino conjunctivitis) or multiple (2 or more) severe allergies
Have an allergy or contraindication to Gadolinium contrast agents
Have an allergy or contraindication to Tetracosactide
Have any chronic medical conditions including but not limited to those stated below requiring medical regime changes within 60 days before Day 1. Concurrent unstable peripheral, cardiac, and cerebral vascular disease, poorly controlled chronic obstructive pulmonary disease and asthma, coagulopathies, uncontrolled neurological conditions, active tuberculosis, active infections, symptomatic cardiac arrhythmias, adrenal insufficiency (primary or central), nephrotic syndrome, Cirrhosis (Child-Pugh stage B or C), uncontrolled diabetes and uncontrolled hypothyroidism or hyperthyroidism, or mental or emotional disorders that preclude reliable study participation.
Have a history of pituitary irradiation or recent (within 1 year) history of transsphenoidal surgery
Have had any cancer within the previous 5 years, except for basal cell carcinomas.
Have a history of or current hyperkalemia and/or hyponatremia.
Have a history or current autoimmune polyglandular syndromes
Have a presence of any underlying physical or psychological medical condition that, in the opinion of the Investigator, would make it unlikely that the participant will comply with the protocol or complete the study per protocol.
Have any current treatment with anticoagulants or antiplatelet drugs, excluding aspirin ≤100 mg/day.
Have been previously treated with PPS in any form.
Have had any current or recent (within 90 days before Day 1) immunosuppressive or immunomodulatory systemic therapy including all oral, inhaled, intranasal, intra-articular and topical corticosteroids (occasional limited use of over the counter hydrocortisone cream allowed; however, cannot be used within 1 week of any cortisol testing)
Have used opioids within 6 weeks before Day 1.
Have used bisphosphonates within 12 weeks before Day 1.
Have used denosumab and iloprost within 12 weeks before Day 1.
Have used a knee brace on the index knee within 2 weeks before Day 1.
Have had systemic steroids administered intravenously, intramuscularly, and orally for OA or other indications within 8 weeks before Day 1.
Have had intra-articular injections to the index knee: steroids within 24 weeks; hyaluronic acid or any other intra-articular injections within 24 weeks before Day 1.
Have used cannabinoids within 30 days before Day 1.
Have used vitamins and dietary supplements known to alter haemostasis within 2 weeks before Day 1, including ajoene, birch bark, cayenne, Chinese black tree fungus, cumin, evening primrose oil, feverfew, garlic, ginger, ginkgo biloba, ginseng, grapeseed extract, milk thistle, omega 3 fatty acids, onion extract, St. John's wort, turmeric, vitamins C and E, vitamin K.
Have a known prior exposure to heparin as determined by history of drug use or history of the following medical conditions or interventions: cardiac bypass surgery or thromboembolic disease
Have undergone treatment with dehydroepiandrosterone sulfates within 6 weeks before Day 1.
Any chronic use of oral glucocorticoid receptor antagonists or cortisol synthesis inhibitors within12 weeks before Day 1.
Have taken biotin within 6 weeks before Day 1.
Have taken megestrol Acetate within 6 weeks before Day 1
Are currently taking any medication that alters sodium and/or potassium levels (see Table Prohibited Therapy)
Current participation in another clinical trial or administration of any IP or experimental product within 24 weeks or 5 half-lives (whichever is longer) before Day 1.
Have an active or chronic hepatitis B virus, hepatitis C virus, or uncontrolled HIV infection (detectable virus or diagnosis of AIDS); participants with HIV infection must be on chronic suppressive antiviral medication.
Show radiographic evidence of any of the following conditions in any Screening radiograph: excessive malalignment of the knee, severe chondrocalcinosis; other arthropathies (eg, rheumatoid arthritis, psoriatic arthritis, gout), systemic metabolic bone disease (eg, Paget's disease, metastatic calcifications), primary or metastatic tumour lesions, stress, or traumatic fracture.
Show radiographic evidence of any of the following conditions at Screening:

subchondral insufficiency fractures
spontaneous osteonecrosis of the knee
osteonecrosis
pathologic fracture

Have any clinically significant abnormalities on clinical chemistry, haematology, urinalysis, physical examination, medical history, 12-lead ECG, or vital signs as judged by the Investigator (at Screening).
Have resting, supine blood pressure (BP) ≥160 mmHg in systolic pressure or ≥100 mmHg in diastolic pressure at Screening. If a participant is found to have uncontrolled and/or untreated significant hypertension at Screening and anti-hypertensive treatment is initiated, assessment for study eligibility should be deferred until BP and antihypertensive medication have been stable for at least 1 month. For participants with previously diagnosed hypertension, antihypertensive medications must be stable for at least 1 month before Screening.
Display evidence of pigmentary maculopathy identified by a retinal specialist during Screening.
Have morning Cortisol ≤ 3 µg/dL.
Are largely or wholly incapacitated (eg, bedridden or confined to a wheelchair, permitting little or no self-care).
Have any major surgery or anticipated surgery during the study.
Are currently hospitalized or any planned hospitalizations during the study.
Plan for total knee reconstruction in affected knee(s) during the study.
Have had knee surgery or trauma to the index knee within 1 year before Day 1.
Have a history of drug or alcohol abuse and/or dependence within the 12 months before Screening that, in the opinion of the investigator, may affect participant ability to comply with study requirements.
Have a contraindication to MRI scans.
Are an employee of the Sponsor, clinical research organizations or research site personnel directly affiliated with this study or their immediate family members defined as a spouse, parent, sibling, or child, whether biological or legally adopted
There are other eligibility requirements that the study doctor will review. Only the study doctor can finally determine whether you are eligible to participate in the study or not.
Click the
JOIN

button if you think you might be eligible for this study.
All information about you will be kept confidential and will never be used or disclosed for any purpose not described in our Privacy Policy.
After providing us with your contact information, a research professional will get in touch to further assess your eligibility, answer any questions you have about the study, and determine if you qualify for participation.