The majority of people suffer from lower back pain at some point in their lives. The region of the back that starts below the ribcage and ends at the tailbone is called the lumbar region.
Pain in the lumbar region is often intense, ranging from a constant, dull ache or a sharp, shooting sensation when you move in a particular way. It may come on suddenly, for instance when you try to stand up while lifting something. Or, when you twist your torso too far while playing sports. Lower back pain can also come on gradually and get progressively worse. It may be caused by underlying conditions, such as arthritis, or damaging habits, such as working out without stretching properly, poor posture, or carrying too much weight in a purse, knapsack, or briefcase.
Though lower back pain is one of the top causes of missed work, in many cases it heals on its own. When pain in the lumber region doesn't go away, it's considered chronic. Luckily, treatments such as medication, spinal manipulation, acupuncture, massage therapy, and yoga can help to improve symptoms.
If you experience lower back pain that doesn't heal within three days, you should speak to a health professional as soon as possible. Seek treatment if pain is accompanied by tingling or numbness in the legs, or dizziness.   
For mild cases, the following products and home treatment tips can help to relieve the pain.
Immediately After An Injury, Try These Tips And Products To Relieve Pain 
Ice it, then add heat.
Between 24 to 48 hours after an injury, use an ice pack or frozen vegetables wrapped in a tea towel to reduce inflammation in your lower back. Though warmth may feel more comfortable and does help you to relax your muscles, it has the opposite effect on inflammatory processes—it can contribute to inflammation.
After 48 hours have passed, you can use a heating pad, hot water bottle, or hot pack on the injury. Whatever you choose to use, take the pack off after twenty minutes to give yourself a rest.  
Stay active.
When lower back pain strikes, you might be tempted to rest it off. But doctors recommend you keep moving. You should avoid strenuous lifting or physical activity, but you can still go about your day-to-day activities, such as going to work, walking the dog, or making the beds. The spine is meant to move, and too much rest can mean it will take you longer to heal.
Once you feel better, you can go back to aerobic activities such as running, bicycling, swimming, and sports.  
Next, Work On Preventing Lower Back Pain With These Tips And Products
Build strength.
You can help to prevent future bouts of lower back pain by developing the muscles in your back and core, which support your lumbar region. The back extensor muscles, which surround your spine, allow you to maintain correct posture and alignment when you're sitting, standing, or moving. In addition, you can try other exercises to build and tone muscles in your core, pelvis, and hips, which all offer additional support to the back. Speak to a personal trainer or physiotherapist to understand what to avoid—abdominal crunches, for instance, can put additional strain on your back.      
Stretch.
If you work at a desk, take steps to avoid sitting slouched in your chair all day, which can wreak havoc on your lower back. Set a timer for every twenty minutes to get up and stretch. Sitting at a desk can cause you to lean forward, so when you stretch, try to bend the opposite way. Don't forget to stretch your neck, shoulders, and legs.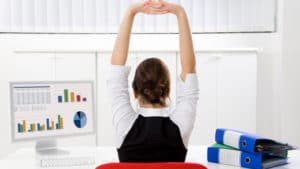 If you're not sure which stretches can help, you can speak to a doctor or go online to find some stretches for desk workers. Many people find that a daily stretching sequence, such as yoga, can help to alleviate lower back pain.
Make ergonomic changes at work and at home.
First, assess your workspace and make changes if necessary. Keep in mind the following:
Your office chair should have adequate lower back support.

Did you know that sitting actually puts more pressure on the disks in your spine than standing or walking? Slumping is even worse for your spine. If you work at a desk, it is important to use a chair that supports your lower back. Make sure your feet can comfortably reach the floor.

Use a backrest.

Backrests can help you to maintain proper posture no matter where you sit. They come in a number of portable formats and can be adjusted as necessary. Consider using a backrest in your car if you spend a lot of time behind the wheel, or taking it along on long plane or train trips. Lumbar roles and seat wedges can also provide support to the lower back region.  

Support your neck.

If you tend to lean forward towards your computer screen, a neck support can help you to keep your head upright and your spinal disks properly aligned.

Make sure your computer is at eye level.

If you work on a laptop, a slant board or lifter can help you to ensure your screen is high enough.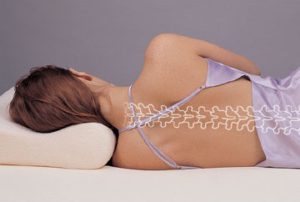 Is your bed or sleeping position contributing to lower back pain? If you wake up with stiffness, you might want to reassess your sleeping setup. Here's what you can do to prevent lumbar pain:
Use the right pillow.

Try a different pillow if you have stiffness in your neck or shoulder in the morning. Ideally, the pillow should allow you to keep your neck straight for the whole night. Pillows that are too soft, flat, firm, or high can cause you to have to twist or bend your neck, which can result in stiffness, aches, and pains. Try a few different pillows to find the best model for you.  

Support your back with a bed wedge.

If you like to read or watch television in bed, use a bed wedge to support your back. You can also use a bed wedge to elevate your knees while you sleep, taking pressure off your lower back.

Make sure your mattress is firm.

Sagging mattresses are a common culprit in lower back pain. Placing a mattress cover or foam mattress topper on your mattress can remedy this.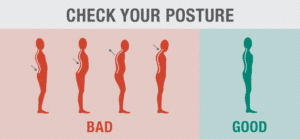 Maintain proper posture.
Try to improve your posture at work and at home. When you slump, your back cannot adequately support your body weight, and pain is often the result. In addition, if you don't take care when lifting objects, you can easily injure yourself. When lifting, don't bend over from the waist. Instead, bend your knees and lift from your legs instead of your back.    
Kick high heels to the curb.
Heels are a common source of lower back pain among women that wear them. When heels are higher than one inch, they can have a destabilizing effect on your body, making it more difficult for you to maintain good posture. As a result, this can put pressure on the lower part of your spine. If you suspect heels are contributing to lower back pain, ditch them for shoes with heels under one inch.