Living with Diabetes: A Complete Guide to Managing the Disease
An estimated 11 million Canadians are affected by prediabetes or diabetes. Are you one of them? Maybe you're a caregiver to someone living with diabetes. In all likelihood, you or someone you know is affected by diabetes.
Learn about symptoms, risk factors, causes, and treatments to ensure diabetes isn't getting in the way of your healthy, active life.  
We're constantly adding to our collection of diabetes resources. Bookmark this page to access the latest tips for managing and treating diabetes.
---
How Diabetics Successfully Manage Blood Glucose Levels
For diabetics, learning how to test and monitor their blood sugar levels is a key component of managing their condition.
These simple guidelines for testing and managing your blood sugar can help to prevent short- and long-term complications.
Learn nine simple ways to measure and monitor your blood glucose levels, reduce symptoms and delay or prevent complications.  
---
11 Simple Diet Changes for Diabetics
If you've recently been diagnosed with diabetes, figuring out what you can and cannot eat can seem overwhelming. But a diabetes-friendly diet doesn't have to be complicated.
Simplify things by identifying the foods you like to eat and then replacing them with healthy alternatives. These 11 easy switches can help you to get started…
Find out how to eat a diabetes-friendly diet without sacrificing flavour.  
---
8 Commonly Asked Questions About Living With Diabetes
Do you have questions about diabetes? If you or a loved one is living with diabetes, chances are you have one or more of these eight frequently asked questions on your mind.
We provide practical tips to help you understand your diagnosis, reduce symptoms, and delay or prevent complications…
Learn the answers to frequently asked questions about diabetes.  
---
Simple Diabetic Exercises For Your Daily Routine
Did you know that physical activity can help to manage blood sugar levels and delay or prevent diabetes related complications?
Staying active and maintaining a healthy weight are key components of most diabetes treatment plans. But for most of us, family and work commitments make getting enough exercise a challenge …   
Find out how you can incorporate simple exercises into your everyday activities to keep your heart healthy and manage your diabetes.
---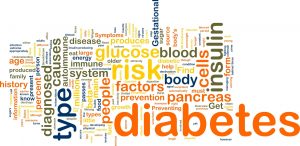 8 Important Differences Between Type 1 and 2 Diabetes
Do you know the difference between type 1 and type 2 diabetes? Whether you've been diagnosed with the disease or someone you know has, learning more can help.
Learn causes, symptoms, and treatments and be familiar with the potential complications of type 1 and 2 diabetes.
Understand these eight significant differences between type 1 and type 2 diabetes.
---
Diabetes is a chronic health condition that affects millions of Canadians, many of whom don't even know they have it.
With education and treatment, you can manage your diabetes symptoms and delay or prevent long-term complications. Use this site to access our diabetes resources and check back often to learn the latest tips for living with diabetes.    
---
JoinAStudy only uses trusted resources that are part of Health On The Net Code (HONcode) as we only want to provide quality health information to professionals and the general public.
Trusted Resources: