Urge incontinence is a common condition that is associated with a powerful need to urinate that results in an involuntary urine leak. It is also referred to as "overactive" or "spasmodic" bladder.
Strong muscles called sphincters control the release of urine from the bladder. The urinary sphincter regulates the flow of urine from the bladder to the urethra, a narrow tube through which urine leaves the body. 
With urge incontinence, the muscles in the bladder contract suddenly and involuntarily. The contraction is strong enough to overpower the sphincter, and as a result, urine is released from the body.
Urge incontinence is not an illness. It is typically caused by an underlying medical issue.
It is extremely common, affecting approximately 1 in 11 adults, and is more common in women and older individuals.
Fortunately, there are treatments available.
What Causes Urge Incontinence?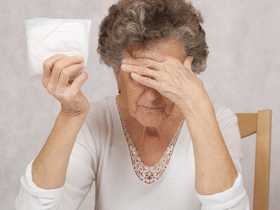 The muscle spasms that cause urge incontinence can occur for a number of reasons. Some of the most common reasons include:
Nervous system damage and disease.
Certain medical conditions can damage the nerves tin the bladder. These include chronic illnesses such as diabetes, multiple sclerosis, and Parkinson's disease.  Injury to the spinal cord or a stroke can also cause urge incontinence
Bladder inflammation, infection, stones, cancer, as well as an obstruction of the opening of the bladder to the urethra can lead to urge incontinence.
Remember, it's not always possible to identify the exact cause of urge incontinence.
Common Risk Factors
Although urge incontinence can affect anyone, some people are at an increased risk of developing urge incontinence. The following risk factors can make urge incontinence more probable:
Older adults are more likely to develop urge incontinence, due to weakening of the bladder muscles. This results in decreased bladder storage capacity.  Involuntary contractions of the bladder are more frequent in older people.
Certain surgical procedures, such as a C-section, prostate surgery, or hysterectomy, can increase the risk of urge incontinence.
Excess weight puts more pressure on the bladder and surrounding muscles, weakening them and resulting in urine leaks.
Men who have prostatitis or an enlarged prostate are more likely to experience urge incontinence.
People who are suffering from nerve damage caused by an injury, stroke, or a medical condition such as diabetes or neurological disease are at increased risk.
Prostate and bladder cancer can lead to urge incontinence.
Urinary tract infections.
Bladder irritation caused by a urinary tract infection can affect the muscles in the wall of the bladder.   
Prevention & Treatment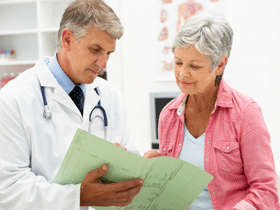 You might not be able to prevent urge incontinence, but you can try to reduce your risk by making certain lifestyle changes. Treatments are available to help you. These include behavioural therapies, medication, electrical stimulation, and surgery.
Your doctor will help you to determine the best way to treat your urge incontinence. Sometimes, a few different treatments are used.
Behavioural Treatments
Behavioural treatments include techniques such as timed voiding. Timed voiding involves recording the times that you urinate and/or have an unintentional leak.
This can potentially help you to identify a pattern in your urge incontinence and avoid leaks in the future.
Bladder training is another behavioural treatment that involves gradually increasing the intervals between urination.
You go to the bathroom at regular intervals, whether you feel like you need to or not.  Over time, increase the intervals. For example, you might go to the bathroom once every hour for a week or several weeks. Next, you increase the time between bathroom breaks to 75 minutes, and eventually, 90 minutes.
Kegel exercises are another type of behavioural therapy that can help with urge incontinence.
Kegel exercises target the pelvic floor muscles, which support the bladder and bowels. Having strong pelvic floor muscles can help you to avoid leaks.
Learn About Kegel Exercises And Why They're Important, Plus, How To Find Your Pelvic Floor Muscle.
Other behavioural and lifestyle changes may also help to improve symptoms of urge incontinence.
These include:
Going to the bathroom regularly, especially before physical activity.

Avoiding alcohol and caffeine, especially before activities.

Avoiding drinking fluids immediately before bed.

Avoid lifting heavy objects

Losing excess weight.
Medical and Surgical Treatments
Sometimes, changing your behaviour is not enough to alleviate symptoms of urge incontinence. If this is the case, your doctor might propose other treatments, such as medication or surgery.
Medications may be able to help to prevent the muscle spasms that trigger urge incontinence. Both over-the-counter and prescription medications are available.
Your doctor will help you to understand which medication is best for you.
Other medical treatments include:
Botox injections to relax the bladder muscles and increase storage capacity

Hormone therapy in women 

Electrical stimulation of certain nerves
Surgery is typically the last resort when more conservative treatments are not successful.
Surgical procedures to treat urge incontinence can:  
Increase bladder volume

Limit the nerve impulses that cause muscle spasms in the bladder

Divert the flow of urine
Make an appointment with your doctor to discuss the best treatment options for your case.  
The information in this health guide should not be taken as professional medical advice. If you are having issues or have health-related concerns, you should see your personal physician