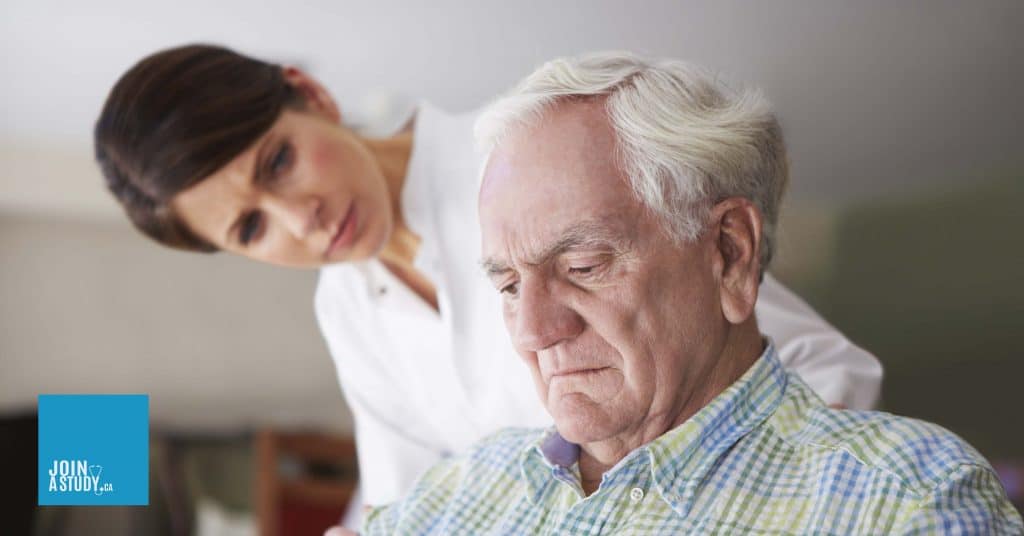 Do you have a loved one who suffers from the early stages of Alzheimer's Disease?
This clinical research study is looking at the safety and effectiveness of an experimental treatment for people with early symptoms of Alzheimer's Disease (AD).
Would you like them to take part in clinical research?
As a volunteer in a research study, your loved one will receive study-related medical care from the study doctor and regular follow-up of their condition to monitor the effectiveness of the care they will receive. The results of this research will be used to find out if the investigational medication being studied will be of benefit to other patients with Alzheimer's disease, and whether it will be made widely available in Canada. Study volunteers are an important part of moving medical care forward.
Your loved one may qualify to participate in this study if they:
Are 60 to 85 years of age, inclusive
Provide evidence of gradual and progressive change in cognitive function, reported by the participant or the study partner for greater than or equal to 6 months before joining the study
Have a biomarker consistent with the presence of brain amyloid pathology, via:

Historical biomarker, if available, or,
Prospective plasma biomarker, if available

Are on concomitant symptomatic AD medications or other medications that may impact cognition, then must be on a stable dose for at least approximately 28 days prior to randomization
Have a reliable study partner who will provide written informed consent to participate and in frequent contact with the participant. The study partner must be capable of giving signed informed consent and complying with the requirements listed in the informed consent form. The study partner or a caregiver must provide oversight for weekly at home subcutaneous injections and be willing and able to administer the injection, as necessary. A second study partner may serve as a back-up. The study partner(s) is/are required to accompany the participant for signing consent. The study partner must be present on all days the cognitive and functional scales are administered. If a study partner must withdraw from study participation , a replacement must be identified, and approved at the investigator's discretion.
Your loved one may not qualify to participate in this study if they:
Have a significant neurological disease affecting the CNS other than AD, that may affect cognition or the ability to complete the study, including but not limited to, other dementias, serious infection of the brain, Parkinson's disease, multiple concussions, or epilepsy or recurrent seizures
Have a current serious or unstable illness, including cardiovascular, hepatic, renal, gastroenterological, respiratory, endocrinologic, neurologic, psychiatric, immunologic, or hematologic disease
Have a history of cancer with high risk of recurrence and preventing completion of the trial
Have a history of clinically significant multiple or severe drug allergies
Are currently enrolled in any other medical research judged by the sponsor to not be scientifically or medically compatible with this study
There are other eligibility requirements that the study doctor will review. Only the study doctor can finally determine whether they are eligible to participate in the study or not.
Click the
JOIN

button if you think you might be eligible for this study.
All information about you will be kept confidential and will never be used or disclosed for any purpose not described in our Privacy Policy.
After providing us with your contact information, a research professional will get in touch to further assess your eligibility, answer any questions you have about the study, and determine if you qualify for participation.