Inflammatory bowel disease (IBD) describes a type of disorder that involves chronic inflammation of the digestive tract. Crohn's Disease and Ulcerative Colitis are the two most common forms of IBD.
The symptoms associated with IBD usually include diarrhea, abdominal pain, fatigue, bloody stools and unintended weight loss.
IBD can have very serious effects on a person's quality of life, and can lead to life-threatening complications.
Read on to find out more about IBD.
Crohn's Disease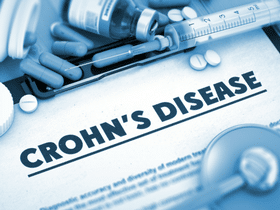 Crohn's disease is associated with chronic inflammation in the bowel. The most common symptoms include chronic diarrhea which is often bloody and contains mucus or pus; weight loss; fever; abdominal pain and cramping; a feeling of fullness in the abdomen; and rectal bleeding.
Symptoms depend on where in the bowel the disease is present, and how severe the inflammation is. Symptoms may arise that last from days to months, followed by periods of remission for days, weeks, or even years.
Crohn's can also cause other parts of the body to become inflamed (due to chronic inflammatory activity) including the joints, eyes, mouth, and skin. In addition, gallstones and kidney stones may develop as a result of Crohn's disease. People with Crohn's have a higher risk of blood clots.
Severe inflammation or gastrointestinal tract obstructions that occur with Crohn's can be life-threatening.
Treatment for this digestive disorder usually involves medications, such as:
anti-inflammatory drugs
corticosteroids
immune system modifiers
antibiotics
antidiarrheal drugs
biologics
nutritional supplements.
In severe cases, surgery may be required.
People with Crohn's have a greater chance of developing colon cancer; therefore, they should have regular colonoscopies.
There are a number of theories about what causes Crohn's, but none are proven. Scientists believe that it may be caused by several factors.  Learning more about the potential causes may provide further insights into the diagnosis and treatment of this disease.
Researchers believe that a combination of three factors causes Crohn's:
Immune system problems. The immune system is a factor in most inflammatory diseases. In the case of people with Crohn's, the immune system may mistakenly attack helpful microbes in the gut. Or, once the immune system response has been activated, it doesn't stop. Both cases lead to chronic inflammation in the bowels.
Genetics. The family members of people with digestive disorders, including Crohn's, are more likely to develop the disease themselves. Approximately 10 to 20 percent of those with Crohn's disease also have a family member who has Crohn's. In addition, certain ethnic groups are more likely to suffer from Crohn's. Scientists have identified a gene that is associated with the disease. When this gene has mutated or changed, the body reacts differently to normal microbes. People with Crohn's have this mutated gene twice as often as people without the disease.
Environmental factors. Certain substances may play a role in triggering Crohn's. However, that doesn't mean they cause Crohn's. These factors may include substances in food, bacteria or viruses, cigarette smoke, and other as of yet unidentified substances.
Ulcerative Colitis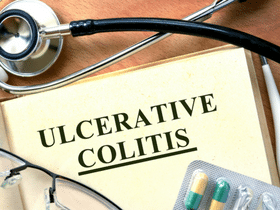 Ulcerative colitis causes the lining of the large intestine (also known as the colon), or the rectum, or both to become inflamed, resulting in the development of small ulcers or sores.
These ulcers can result in the discharge of mucus and pus, as well as blood. In addition, ulcerative colitis causes rapid movement of contents through the bowel and frequent bowel movements.
Symptoms of ulcerative colitis include abdominal pain and discomfort, bloody stools, diarrhea, rectal pain, fever, malnutrition, and unintended weight loss.
The condition typically affects people between the ages of 15 and 35, though it can affect people of all ages.
Researchers still don't know what causes ulcerative colitis. However, like Crohn's, the immune system is involved as is genetics and the environment.
Also like Crohn's, ulcerative colitis increases the risk for colon cancer, so it is important to have regular colonoscopies to check for the development of tumors.
Typically, ulcerative colitis is treated via medications and/or surgery. The goal of treatment is to reduce the inflammation that causes ulcers.
Like Crohn's, treatment generally includes:
anti-inflammatory drugs
corticosteroids
immune system modifiers
antibiotics
antidiarrheal drugs
biologics
nutritional supplements.
Surgery involves removing the colon completely and is typically used to treat chronic and debilitating symptoms, massive bleeding, blockages, or perforation of the colon.
Knowing the different types of diseases and disorders that affect your gastrointestinal tract can help you understand your body's symptoms. Find out more about GERD and how it could be affecting your life.
The information in this article should not be taken as professional medical advice. If you are having issues or have health-related concerns, you should see your personal physician.