An asthma attack, also known as an asthma flare up, is associated with symptoms such as coughing, wheezing, severe shortness of breath or chest tightness and pain. Asthma attacks (James T C Li, M.D., Ph.D. , Mayoclinic.com)
are caused by inflammation and swelling in the airways and narrowing of the airways. During an asthma attack, mucus is release in your airways, which makes it even harder to breath.
If you or your child has asthma, here are the steps you need to take to both prevent and be prepared for an asthma attack: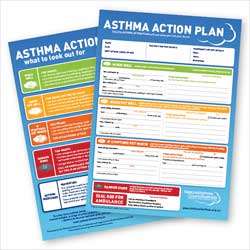 Understand your asthma action plan.
An asthma action plan (National Institutes of Health), also known as an asthma treatment or care plan, is a guide to both preventing and coping with symptoms of asthma. It can help you to understand what you or your child need to do on a day-to-day basis, including medication to prevent symptoms. It will also offer a course of action should you or your child's symptoms worsen leading up to an asthma attack. An asthma action plan can help you to know when to call your doctor or seek emergency treatment.
Your doctor can help you to develop this plan. It should include the following information:
The medication you need to take on a daily basis to reduce inflammation in your airways.

The medication you need to take and steps you should follow during an asthma attack.
It may also contain:
Goals for your asthma treatment, including how to avoid triggers.

Instructions on measuring your peak expiratory flow (PEF)(George Krucik, MD, Healthline.com) 

using a peak flow meter.

A list of your triggers.

A list of symptoms that may be indicators of an impending asthma attack.   

A daily journal which you can use to record information about your triggers and symptoms. This journal can help you and your doctor to manage your asthma in the best way possible.
As you develop the plan with your doctor, ask questions about anything you don't understand. If the plan is for your child, make sure that other caregivers and teachers have read and understand the plan.
Get to know your symptoms.
Symptoms of asthma vary according to the individual. Some people experience frequent attacks, while others may go months or even years without having an attack. Monitoring the symptoms you experience—which might include tightness in the chest, feeling short of breath, wheezing, and coughing—can help you to understand what is normal for you and what is not. Your asthma action plan should include guidelines for treating symptoms.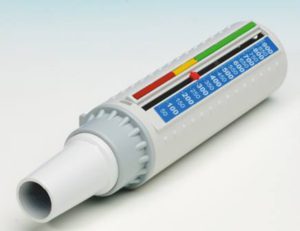 Understand how to use a peak flow meter to determine peak flow.  
A peak flow meter is a portable device that measures how fast air moves out of your lungs when you exhale as hard as you can. Keeping a record of Peak Expiratory Flow (PEF) measurements is an important part of your asthma treatment plan.
Measuring your peak flow (Neil K. Kaneshiro, MD, MHA, nlm.nih.gov) can help you to identify when your asthma is worsening. If it is, you'll need to act right away in order to prevent a flare-up. For most people, this means taking quick-relief medication.
If your child has asthma, peak flow measurements are even more crucial as it may be difficult for your child to describe his or her symptoms to you. You can use a peak flow meter to decide when to administer your child's rescue inhaler and thereby prevent his or her condition from worsening.
Know which medication to take when you're having an attack.
If you or your child has asthma, your doctor will prescribe both long-term controller medication (National Institutes of Health) and medication to provide relief during an acute flare-up of symptoms. It's incredibly important to know the difference—long-term controller medication won't do much to minimize your symptoms in the event of a flare up. In some cases, long-term controller medication can actually worsen symptoms during an asthma attack.
Your care plan should include a detailed outline of the medication(s) you need to take on a daily basis, versus acute relief medication. If you can't memorize the names of your medications, keep a list and description of your asthma medications on your person at all times.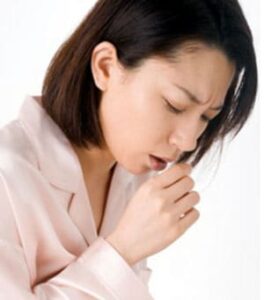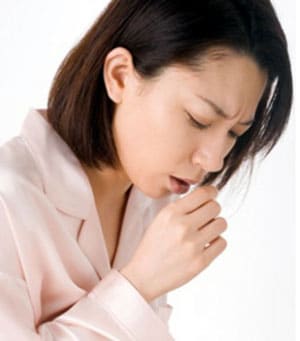 Learn to recognize the early warning signs of an attack.
This is especially important for parents of children who have asthma. Your child may have difficulty identifying worsening symptoms. He or she may simply panic. It's important for you to be able to recognize what is happening and act.
Managing symptoms of asthma before they deteriorate can be the difference between feeling better within a matter of minutes and having to take a trip to the ER. Early warning signs of an asthma attack (William Blahd, MD, Webmd.com) include:
Increased coughing

Increased wheezing

A drop in peak expiratory flow rate

A sensation of tightness in the chest

Having difficulty performing day-to-day activities
Most people are in the yellow zone (Asthma society of Canada, asthma.ca) of their asthma action plan when they start to notice these symptoms. To avoid reaching the red zone, (Asthma society of Canada, asthma.ca) you will have to take your quick-relief medication or administer it to your child. In some cases, being in the yellow zone may also mean starting a course of oral steroids. But all this information should be outlined in your asthma action plan. If your symptoms continue to worsen even as you follow the steps outlined, you should contact your doctor.
The earlier you identify and treat symptoms, the more likely you are to make a swift recovery. Medication is most effective when you take it early on in the course of symptom progression. But either way, you should keep in mind what to do if your symptoms continue to worsen even after you've taken your medication and followed the steps outlined in your plan.
Have an open dialogue with your doctor regarding your or your child's action plan. You should revisit the plan on a regular basis, as symptoms of asthma can change over time. Your doctor may need to prescribe additional medication or increase the dosage if you or your child report lower peak flows. If you are using your quick-relief medication more than twice a week, it can be a sign that your controller medication isn't working as it should.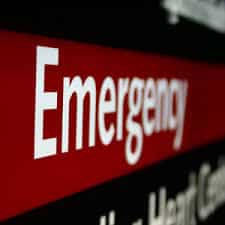 Know what to do in an emergency.
Finally, always be prepared in the case of an emergency. Whether you're the patient or the parent of a child who has asthma, you will need to know when to wait for symptoms to improve, when to call your doctor, and when to seek emergency medical treatment. If you notice any of the following symptoms, you should seek emergency care right away:
Feeling short of breath, even when you're at rest

Difficulty walking, speaking in complete sentences, or doing things you normally do

Anxiety

Rapid breathing

Constant coughing

Wheezing that occurs both when you inhale and exhale

Your symptoms persist, even after you use your relief inhaler  

A peak flow reading that's 50% or less than your personal best

Feeling exhausted or confused

Extremely pale skin

Turning blue around the lips and fingernails

The skin around the ribs starts to look like it's being sucked in (often occurs in children)

Unconsciousness
If any of these symptoms are experienced, chances are that you or your child are in the red zone of your care plan. For most children and adults who suffer from asthma, this means contacting a doctor or seeking emergency care as soon as possible. Keep a list of phone numbers with you at all times.