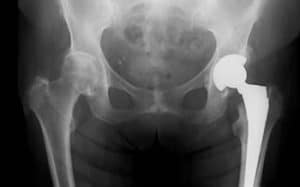 Your doctor may suggest replacement surgery, if stiffness and pain in either your knee or your hip make it difficult for you to perform simple, everyday tasks. Hip and knee replacement surgeries are a last resort for people over 50 who suffer from severe osteoarthritis and are no longer having success with other treatments.  
Read on to find out what to expect when getting a knee or hip replacement, and how you can prepare for and quicken your recovery at home.  
Knee Replacement Surgery: The Basics
Procedure: Before the surgery, you will be given a general anesthetic to put you to sleep temporarily. You may also be given an epidural to numb your body below the waist.
The surgeon will make an 8-12 inch cut in front of your knee and remove the damaged part of the joint from the surface of the bones. The surfaces will then be reformed to accommodate an artificial joint, usually made of either plastic or metal. This artificial joint will be connected to the thigh bone, shin, and kneecap using cement or another adhesive material.
When the process is complete, the artificial joint should be able to use the surrounding muscles and connective tissue to function just as an otherwise intact knee would.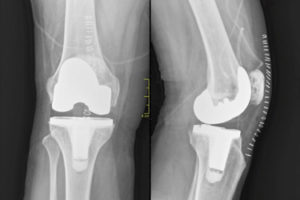 Recovery: On average, getting a knee replacement requires a three- to five-day stay in the hospital after the surgery. Most patients experience dramatic improvements in their ability to use their knee, though these improvements are not usually evident right away. Improved ability is most notable about one month after the surgery, when the joint has had some time to heal.
However, many patients are able to stand and move their joint immediately after the surgery. They may progress from using parallel bars to crutches or a cane or a walker until the new knee is able to support their full weight. It usually takes an average of six weeks to be able to walk with little to no assistance.  
Follow-up: After knee surgery, you will be required to undergo physiotherapy, which may last several months. During physiotherapy, you will work with a physiotherapist to meet incremental goals, such as improving the range of motion of your new knee. Your physiotherapist will show you a series of stretches and exercises to help you to strengthen your leg muscles and improve flexibility—ultimately ensuring your artificial knee will perform for years to come.   
Precautions: You should avoid pivoting or twisting on the leg with the artificial knee for at least six weeks after surgery. Try to keep your new knee as straight as possible when you're in bed. And avoid kneeling and squatting immediately after surgery. Your physiotherapist can guide you to taking further precautions.  
Hip Replacement Surgery: The Basics
Procedure: A general anesthetic is given prior to hip replacement surgery. This relaxes the muscles and allows you to sleep deeply and without pain for the duration of the surgery. In some cases, an epidural or spinal anesthetic is also given to prevent pain.
The surgeon makes an incision along the hipbone, moving aside the muscles that connect to the top of the thighbone to expose the hip joint. The ball part of the joint is removed by cutting through the thighbone with a saw-like instrument. An artificial joint is inserted and joined to the thighbone using cement, or another adhesive material.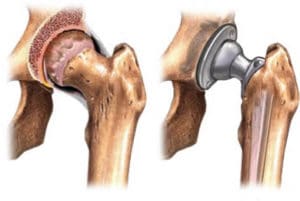 Next, the surgeon reforms the surface of the hipbone and removes damaged cartilage. The replacement socket is attached to the hipbone, and the "ball" joint is inserted into the socket. Any excess fluid may be drained from the site. Then the muscles are reattached, and the doctor closes the incision.
Recovery: Hip replacement surgery usually requires a four- to six-day stay in the hospital. In the hospital bed, you may have to use a special wedge cushion between your legs to ensure the artificial joint stays in place. During this time, a catheter will be inserted to help you go to the bathroom.
Physiotherapy usually begins immediately after surgery. Within days, you should be able to walk comfortably with the support of crutches, a cane, or a walker.
Follow-up: Physiotherapy usually continues for a period of weeks or months following the surgery. Your physiotherapist will help you to improve your new hip's range of motion, flexibility, and strength using different sequences of stretches and exercises and in some cases, adaptive equipment. Together, you will work towards a series of goals, until you're able to move and use your new hip with ease.   
Remember, disregarding your physiotherapist's advice can cause you to dislocate your new hip joint or even jeopardize the long-term functionality of your artificial hip. You may require another surgery.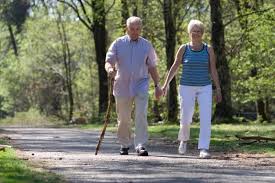 Precautions: Even after your hip has healed, you should avoid certain activities for a six- to 12-month period following the surgery. Do not use your involved leg to pivot or twist. Do not bend the hip more than 90 degrees, or cross the leg in question past your midline. Avoid bending forward from your waist and squatting. Your physiotherapist can help you to understand which activities to avoid after hip surgery.
Preparing Your Home Before Your Knee or Hip Replacement Surgery
Remember, your mobility will be reduced when you come home from the hospital after replacement surgery. Preparing your home before you leave can make your life a lot easier when you do come home. If you want to know more about what you can do to ensure your home is ready, speak to your doctor, physiotherapist, or other healthcare professional.  
Otherwise, follow these instructions:
Make sure everything you will need is on a main floor. You should try to limit stair use to once a day.

Try to set up your bed on a main floor. It should be low enough that your feet can touch the floor when you sit on the edge of the bed. In addition, a firm mattress is best for recovery.

Ideally, set up your bed near a ground-floor bathroom. If your house does not have a bathroom on the ground floor, set up a portable commode toilet.

Stock up on toiletries: shampoo, toothpaste, toilet paper, etc.

Either cook and freeze meals that you can reheat, or purchase canned or frozen foods that can be easily prepared.

Everything you need should be at waist level. If you have necessary items, such as undergarments or pajamas stored in low drawers or high closet shelves, temporarily move them so they are accessible to you without bending down or standing on your tip toes.

Do the same with food items, dinnerware, and toiletries. Leave frequently used items, such as a kettle or pot on the table or a counter.

Ensure your phone is easily accessible. Ideally, move your phone next to your bed.    

Place chairs with tall, solid backs in each room that you plan on using when you come home. Make sure there is a chair in your kitchen, bedroom, bathroom, computer room, and living room so that you can sit down while you do day-to-day tasks.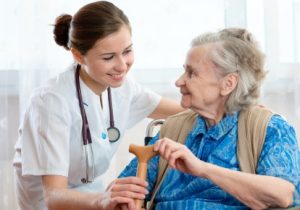 Getting Help Around The House
Immediately after your hospital stay, you may need help cooking, running errands, bathing, exercising, and going to physiotherapy appointments. If you do not have a family member or friend to help you with these tasks, talk to your doctor about getting a trained support worker or nurse to come to your home to help you on a daily basis.